EsportsWikis Finds New Home on Curse Wiki Platform Gamepedia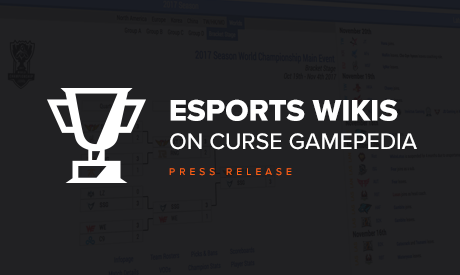 Huntsville, Al. - November 21st, 2017 — The team behind the popular EsportsWikis reference sites announced today that they have reached an agreement with Curse to host and maintain their wikis on Gamepedia. Combining their existing League of Legends content with Gamepedia's popular Leaguepedia wiki, the partnership will initially cover 7 competitive titles including SMITE and Rocket League, with expansion into new titles planned for the near future.
The content team for these wikis is headed up by Megan River Cutrofello, formerly of EsportsWikis and Esportspedia and recent recipient of the Unsung Hero award at the Esports Industry awards. "I'm excited to be partnering with Gamepedia," said Cutrofello. "Gamepedia is a powerful wiki platform and my team looks forward to merging our content to provide even more value to the community."
Owned and operated by Curse, Gamepedia is the host for major gaming wikis including the official wikis for Minecraft, Terraria, and hundreds of other popular games, making it a destination for more than 20 million gamers each month seeking information. Gamepedia will provide the resources and technology necessary to host these crucial resources for the esports community.
"Developing strong community-driven resources for esports requires a lot of dedication and an intimate knowledge of the scene," said Ben Robinson, Director of Wiki Partnerships at Curse. "River and her team have the passion and experience necessary to deliver these resources, and we're looking forward to supporting these projects."
About Gamepedia
[
]
Gamepedia is the largest video game wiki platform on the web, featuring over 1000 community-driven wiki projects. Owned and operated by Curse Inc., Gamepedia is home to everything from indie titles to some of the best-known gaming wikis such as the Official Minecraft Wiki, Leaguepedia, and Titanfall Wiki. Ranked in the top 250 sites globally by traffic, Gamepedia continues to expand rapidly with the creation of new wiki projects on a near-daily basis. Learn more at gamepedia.com.
About Curse Media
[
]
Curse is one of the largest gaming-information properties worldwide, attracting more than 65 million unique visitors a month. Our purpose is to help gamers enjoy the game in all aspects of their gaming lifestyle. Curse is comprised of community sites, tools, databases, videos, guides, and live streaming. Online gaming enthusiasts depend on Curse for the tools and expertise they need in order to take their gaming to the next level. Learn more at curse.com.