ESL Meisterschaft & ESL Pro Series Germany Navbox
ESLM

2019
2018
2017
2016
2015

ESLM 2nd Div

EPS

2014
2013
2012
2011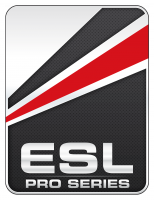 The ESL Pro Series Germany (EPS Germany) is a series of German esport events established in 2002. It features various e-Sport titles. League of Legends was included for the first time in Summer 2011, which was the seventeenth edition of the series.
In 2015 the ESL Pro Series Germany was rebranded to ESL Meisterschaft.
The most successful organization to date in League of Legends is ⁠

⁠n!faculty, which won the tournament four times.
Format
[
]
Five weekly cups are held, which function as the group stage qualification via a point-system. The top eight teams qualify for the group stage. The four teams that get out of the group stage compete offline in a single elimination bracket.
Results
[
]
Season
Date
Winner
Runner-Up
Summer 2011
2011-03-14 – 2011-06-04
⁠⁠SK Gaming
⁠⁠

Competo Sports

Winter 2011
2011-08-15 – 2011-12-04
⁠⁠ALTERNATE aTTaX
⁠⁠Team Acer
Spring 2012
2012-02-13 – 2012-04-29
⁠⁠n!faculty
⁠⁠logiX
Summer 2012
2012-06-11 – 2012-09-02
⁠⁠ALTERNATE aTTaX
⁠⁠mortal Teamwork
Winter 2012
2012-10-01 – 2012-12-09
⁠⁠mousesports
⁠⁠n!faculty
Spring 2013
2013-02-18 – 2013-05-12
⁠⁠ESC Gaming
⁠⁠n!faculty
Summer 2013
2013-06-17 – 2013-09-08
⁠⁠n!faculty
⁠⁠CPLAY
Winter 2013
2013-10-10 – 2013-12-08
⁠⁠Planetkey Dynamics
⁠⁠ESC Gaming
Spring 2014
2014-02-18 – 2014-05-03
⁠⁠n!faculty
⁠⁠Tick Trick and Duck
Summer 2014
2014-06-17 – 2014-09-07
⁠⁠n!faculty
⁠⁠ESC Gaming
Winter 2014
2014-09-30 – 2014-12-14
⁠⁠Playing Ducks
⁠⁠n!faculty
External Links
[
]
Electronic Sports League

Leagues and Events
IEM

Season 11
Season X
Season IX
Season VIII
Season VII
Season VI
Season V

EPS

Germany

North America

Spain

Season VII

Season IX

Season X

Asia

Poland

Bulgaria

France

CIS

UK

SEE

EMS

EBL

EES

Premier

Go4LoL Europe

Special Events